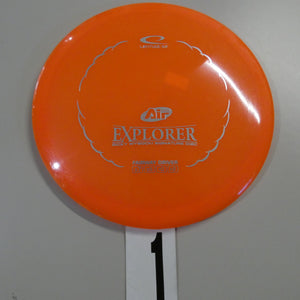 Opto Air Explorer
Why was the Explorer voted the 2018 Disc of the Year? Straight flight path and controlled glide, that's what the Explorer brings. Designed to be the workhorse for all kinds of accurate fairway drives. This stable and versatile fairway driver is smooth out of the hand and has a clean stable flight.
Speed: 7 Glide: 5 Turn: 0 Fade: 2
Opto Air uses the same material as our durable Opto Line plastic. It is modified and the runs are done in a different way to achieve a stunning result of lighter weight discs that still has a layer of solid plastic at the tip and bottom of the rim to protect the alternated material that is mostly centered in the middle of the rim but also spread out slightly over the top of the discs to keep the weight distribution as close as possible to the Opto and Gold Line discs.
---
We Also Recommend